Biography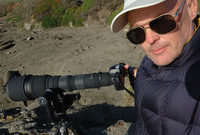 I was born in Los Angeles, California. My father was Jack Douglas, an Emmy winning comedy writer and author and my mother was Marion Hutton who sang for the Glen Miller Orchestra and acted in a few movies. We moved a lot, from Beverly Hills to Malibu, to Great Neck New York to Buck's County in Pennsylvania and Las Vegas, Nevada. Divorce brought more traveling until finally settling in Laguna Beach, California. I've had the good fortune to live on or near the ocean most of my life. While in high school I took up scuba diving and explored the rich kelp forests that surrounded the California coast. Buying a used Nikonos camera from a classmate, I began recording the marine life I saw while diving and began writing for various dive magazines of the times, getting published regularly until I entered college.
Majoring in filmmaking and TV production I entered the family business, first as a screen writer and finally an actor (I am still in the Screen Actors Guild). Looking back at it, I was more wooden headed than Pinocchio when he made the same decision, but at least I had a head start, I was a real boy!. I kicked around LA for most of a decade, auditioning for parts but working rarely. To support myself I started a dive and boat service business in the Newport Beach harbor. By 1991 my life resembled a modified version of the Bataan death march. My showbiz career was going nowhere, my dive business tanked and my finances were a shambles.
With nothing to hold me in southern California I moved to the most beautiful spot on Earth, the Monterey Peninsula on California's central coast.
| | |
| --- | --- |
| "The old man," Jack Douglas on the cover of one of his record albums. | Mom with her boss, Glen Miller |
| Dad's star on Hollywood's Walk of Fame | Aunt Betty Hutton |
| Uncle Alan Livingston, CEO of Capital Records | My "Godfather," Jack Paar |
After a few months in Monterey and with nothing on the employment horizon, I blew my last credit card on a used Nikon camera, a few lenses and an underwater housing. Taking up where I left off in Laguna Beach, I began submitting stories to the local travel and news magazines. Twenty years later my articles & photographs have been published in hundreds of periodicals throughout the world. I've traveled everywhere from the Arctic to Africa. In 1996 friend David Moore and I established a high altitude scuba diving record in California's Tulainyo Lake at 12,818 feet above sea level. In 2004 I was elected into the prestigious EXPLORERS CLUB of New York. In 2006 my photograph of grounded icebergs was featured in an exhibit on global warming in the SMITHSONIAN MUSEUM of NATURAL HISTORY. In March 2011 I became a featured photographer for NIKON. Funny where life takes you!
PETER HEMMING PHOTOGRAPHY is proud to be associated with the following companies and organizations;